At Share Organics we are passionate about Organics!

Organic food sales in the USA have increased from approximately $11 billion in 2004 to 54 billion U.S. dollars in 2018. Share Organics was founded with the specific purpose of helping the Organic Center achieve it's goal of organic product sales reaching 10% of total U.S. sales

We are committed to all of our products being non-GMO as well as nutritious--and organic whenever possible. We also specialize in local and Farm to Table brands.

We support the Eating for HealthTM model created by Dr. Ed Bauman--a comprehensive approach to educating people on how to eat and enjoy a diverse, plant-based diet that provides a full range of nutrients. Rather than the standard "food pyramid" this model (presented in the shape of a Mandala rather than a pyramid) relies on foods known to promote health and support recovery from illness and injury. It integrates the very best of both ancient and modern nutritional approaches to form a flexible system of wholeness. The principles of Eating for Health are based on the premise that our cellular health is determined by the foods we eat. For more information visit www.baumancollege.org

At Share Organics we serve the natural foods industry with the passion and depth of experience that can only come with a lifetime of commitment to the organic movement. We are full service brokers that visit stores of ALL sizes--from the large chains to all the small and mid-size independents to maximize your profit potential in the Northern California region.

Thoughts from our vendors and retailers: see Testimonials
See us on LinkedIn


Share Organics represents manufacturers of high quality organic products in
frozen, chill, dry grocery , body care, and supplements.
Learn how we can help your business achieve increased sales in Northern California, one of the top markets in the USA.


Retail Accounts
We work with over 500 stores in Northern California, including all chains, co-ops and independents.
The Founder and President of Share Organic Marketing, Dennis Hughes has over 30 years experience in the natural foods industry.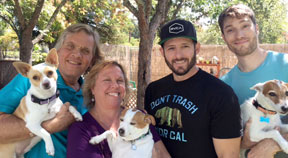 The Share Organics Team
Food
Related Poems
by Dennis Hughes